FD Petrol products are manufactured in strict compliance with the requirements of international standard ISO, ANSI and API as well as GB National Standard. One of our products is oil rigs including DC Motor Driven Drilling Rigs, AC Variable-frequency Motor Driven Drilling Rigs, Mechanical Driven Drilling Rigs, Mechan-Electric Drilling Rigs, Trailer-mounted Drilling Rigs, and equipped with all kinds of traveling and hoisting system, solids control system, electric control system, wellhead equipment and well control devices.

uCharacteristics of Electrical Driven Drilling Rigs:
² The basic specifications of rigs conform to SY/T5609-1999 requirments of oil rig types &basic datas .
² DC Motor driven drilling rig adopts the advanced AC-SCR-DC power system in the world. The drawworks, the rotary table and the mud pump can realize stepless speed regulation to obtain good drilling performance.
² AC variable frequency motor driven drilling rig with the power system of VFD drives and digital control technology can adjust the hoisting speed, rotary speed and pump strokes according to the needs and also improve the speed regulation & power utilization of them.
² The auxiliary brake of drawworks that could be an eddy current brake or Eaton brake, can effectively prolong the service life of disc brakes and brake blocks. The over-spooling-valve crown protector runs accurately and reliably. A height indicator for traveling block is also equipped to improve drilling safety.
² The main components are designed and manufactured in accordance with API Spec for ease of participating in international rig bids.
uDrilling Rig Technical Parameters
DC Motor Driven Drilling Rigs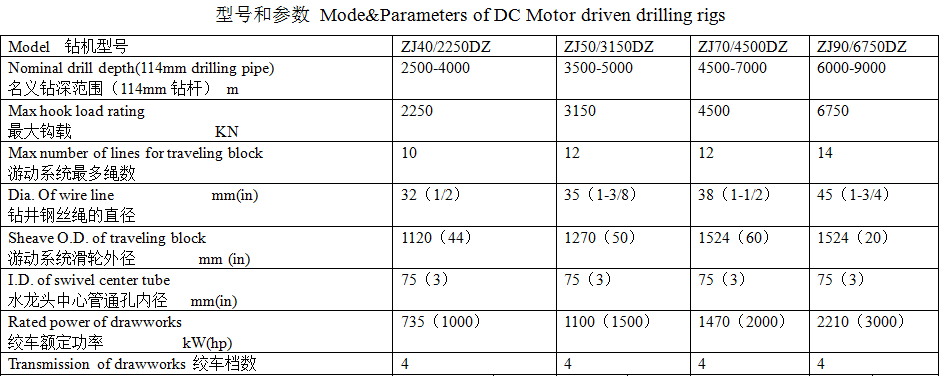 AC Variable-frequency Motor Driven Drilling Rigs



Scopes of Electrical Driven Drilling Rigs


Click inquiry