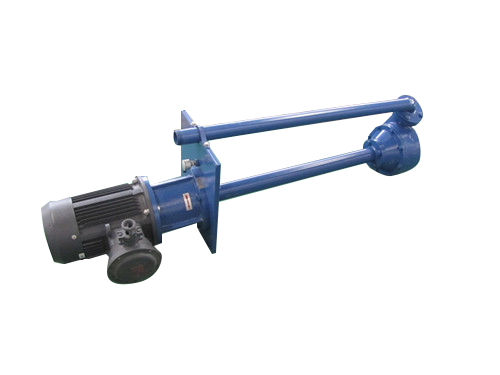 DYWS Multi-Purpose Submerged Pump shall be categorized as a single-suction centrifugal pump, primarily used for liquid feed to centrifuge, well site or sewage/water supply equipments at other sites. Feed-liquid pump that are driving the solid-particles contained drilling fluid into these cyclones under certain pressure as to make it easier for solid particles to be separated, is an important equipment, indispensable in operation of petroleum drilling.
Configuration of DYWS Multi-Purpose Submerged Pump is made with vertical structure, with characteristics as of its working parts being deep below liquid level within tank, and its electric motor being explosion-proof designed and exposed above tank level. DYWS Multi-Purpose Submerged Pump is perpendicular installed above mud tank, and its occupied space is no more than what required for one set of vertical electric motor.

Technical specifications
Major parameter

model

m3/h

rate of flow

M

range of lift

r/min

rotation rate

%

efficiency

(KW)

Motor power

DYWS40-12

40

12

1450

40

5.5

DYWS60-12

60

12

1450

45

7.5
Fault identification and troubleshooting
Fault

Reasons

Troubleshooting

Pump is not sucking water and

Pointer of pressure gauge is vibrating violently.

Liquid level too low, water conduit or meters are found with any leakage.

Raise liquid level and tighten the place where leakage takes place.

Check pressure gauge, if pump outlet is with any pressure, yet no water comes out of water conduit.

Resistance to the outlet conduit is big, rotation direction is not right, and impeller is silted up.

Check or shorten water conduit and check the electric motor, and then, take off connector to water conduit, have the impeller properly cleaned.

Pump does not suck.

Filter plate is silted up and sand grains are settled too much.

Clean the filter plate and start up the agitator.

Rate of flow is lower than expectation.

Pump being silted up and found with serious abrasion.

Clean water conduit and pipe and replace the impeller.

Uncommon noises.

Loose impeller and inadequate lubricants on bearing.

Check if impeller is tightened. Pressing plate is to be properly mounted and add in lubricants.

Bearing in hot condition.

Inadequate lubricants or not clean, pump not matched to electric motor.

Add in or replace lubricants. Adjust couplings.
Click inquiry
You may also be interested in the product: