The river sludge separation system is used for the used muddy water solid-liquid separation, the solid-dry pile transportation, and the sludge reduction harmless treatment in the process of dredging of various rivers and lakes, and the treated sludge can be used for field fertilizers, river embankment piled, etc. The system adopts flocculation draying process treatment of primary large material separation combined with small materials, with features of large treatment capacity, high drying indicators, and high processing precision. Different treatment effects and treatment capacities can be designed according to different engineering needs and customer's requirements.
With the rapid development of industrial and urban constructions, the industrial wastewater and domestic sewage are increasing. To prevent pollution and protect the environment, the sewage must be treated. During the sewage treatment, the sludge with high content of liquid will be produced, the first procedure of sludge treatment is dehydrating, or transportation and comprehensive utilization can't be performed. At present, there are many sludge dehydrators, but compared with other sludge dehydrator, the horizontal screw centrifuge has advantages of high efficiency, energy saving and continuous operation, therefore its application range is more wide. The sand preparing and sewage treatment squeezing device can reduce 50% detailed parameters of energy consumption: high-end durable sand preparing and sewage treatment squeezing device, simple operation, complete technical parameters, wear resistant and durable!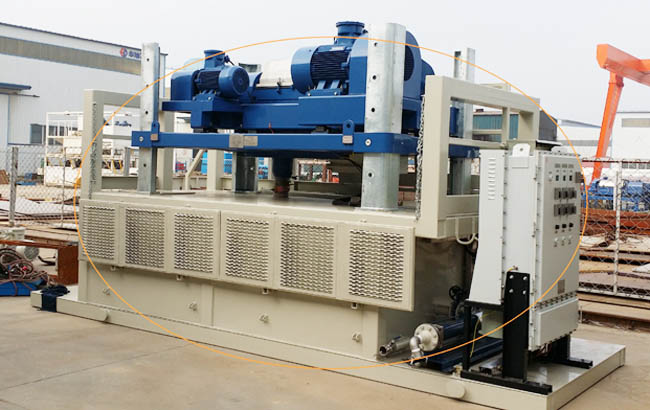 FDPetrol Horizontal Screw Settling Centrifuge
1.Compact structure, light, easy for transportation at the same treating capacity;
2.Large treating capacity, good separation performance and wide application range;
3.High solid-phase recovery rate, low operation cost, no filtering screen;
4.Advantages: automatic continuous operation, easy to operation and maintenance. It is widely used for geology and mineral resources, petroleum, chemical, metallurgical, pharmaceutical and environmental protection and other industrial and mining fields.
Features of River Sludge Treatment Device
1.Main components are made of high-quality carbon steel or stainless steel. The pusher adopts special wear-resistant measures, which can be installed with hard alloy wear-resistant slip or overlaying welded hard alloy protection layer. A cycloid reducer is used with low noise and strong loading capacity.
2.The single unit is with compact structure, covering 2-3 square meters, smooth running. It can automatically discharge material and operate continuously; the worker can only operate the power cabinet, and it is clean and sanitary.
3.It can be suitable for various materials, can separate the wide range (0.005~2mm) of solid-phase particle size, if the size of solid-phase particles is not uniform, it can also separate. Chemical dosing is depended on the materials; in general, chemical dosing is not required, to save cost.
4.Materials can be selected according to different industries. The centrifuge can be made 304 or 316 stainless steel, for special industries, an explosion-proof motor can be used.
5.The device covers small space and is easy for transportation and hoisting, sometimes in order to save occupied space of machinery, to realize the mud concentration preparation purification process, the device can be placed on the container type mud pit, but a reliable bottom support should be provided, and reliable safety protection measures for operators should be taken. In mud treatment of construction piling, the mud purification device consists of mud feeding system, dosing system, desanding purification system, mud separator, sludge discharging system, recovery mud tank, and preparing mud tank.
Click inquiry