HDD Mud Treatment System can be used for recycling the waste mud, so as to save costs for customers, improve the economic benefits of customers, protect the drilling rig, and also to protect the surrounding environment from pollution. FDPetrol HDD Mud Treatment System is mainly used for purification the waste mud to achieve the purpose of the drilling waste mud recycling and reuse through solid control equipment, such as drilling fluid shale shaker, desander, desilter or mud cleaner, etc.
HDD Mud Treatment System is a set of specially developed equipment for non-excavation engineering, drilling fluid recycling (mud treatment system) is involved in separating the simple excavated spoil from the fluid/slurry, so it is not separating all solid matters, only separating the unnecessary matters.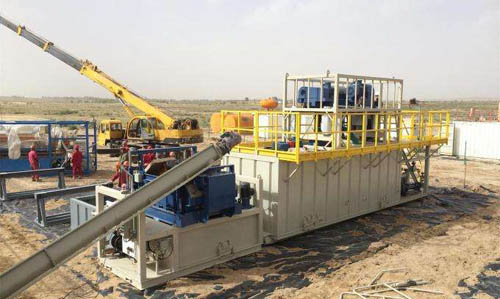 Advantages of HDD Mud Treatment System:
1.Based on 20 years of technical experiences of solid control industry, combined with a deep market research, we have designed the mud treatment system with reasonable structure, good treatment process and wide application range.

2.Multi-functional integrated design can meet functions of the mud cleaning, recycling, reusing, mud configuration and storage, meanwhile greatly reduce the overall dimensions of the tank body, and meet the site and space requirements of horizontal directional drilling (HDD).
3.The electric system is explosion-proof, dust-proof, rain-proof, to guarantee the safety and quality of operation.
4.The tank structure is simple and compact, light, and the walkways and guardrails can be folded or removed, easy for transportation and installation.
5.FDPetrol has been certified by American Petroleum Institute API and ISO, EU CE, Russian export and ISO14001, ISO 18001 of environmental safety system. FDPetrol products can meet the export standards of all countries in the world.
Click inquiry