Model CSQ250×2 Desander
Product explanation
The upper part of shall of 250 mm hydraulic cyclone is cylinder for balance with top cover, there is a tangential rectangular incoming-stream tube, the center of shell is axial overflow pipe, the overflow sinks into the pipe, the end structure is reasonable to facilitate solid and liquid separation. The lower part of shell is cone and lower cone, the lower end of lower cone is equipped with 250 mm sand discharge gate (underflow opening). The hydraulic cyclone has inside lining, the sand-laden drilling liquid directly contacts the inner wall. The cone of cyclone is abrasion-resistant polyester material with excellent abrasion-resistance.
The incoming-stream tube is φ220×1200mm cross tube, for reducing back-pressure, the tapping tube is φ220×1200 cross tube, the upper tube and lower tube are respectively the connecting pipe for drilling fluid to enter and leave the cyclone, after stopping of pump, the drilling fluid would not remain in the tube to cause drying up and freezing.
Model CSQ250×2 desander is equipped with small-sized vibration screen for drilling fluid, and it is relatively ideal to treat underflow drilling fluid with it, the exciting source for vibration screen adopts self-excited motor, whose use and maintenance are convenient. For the tension of screen cloth, the tension pattern of rear hook side and front spool is adopted, there is respectively one latch body at both ends of tension spool, the latch body is reliable, the tension force of screen cloth is homogenous, and replacement of screen cloth is convenient. The bottom of screen box is semienclosed, and the outlet for drilling liquid in the front part of screen box is just above the drilling fluid tank at the pot orifice. The self-excited motor is installed above the front of vibration screen, it is fixed on the front rack, and it is fastened levelly. Open the guard shield at both ends of motor, and the exciting force may be adjusted by adjust the exciting block.
Main technical parameters:
1、 Hydraulic cyclone:
Operating pressure: 0.25Mpa - 0.35Mpa;
Treating capacity: 160-200m3/h;
Diameter of incoming-stream tube: φ114mm;
Diameter of tapping tube: φ168mm;
Maximum inside diameter of cyclone: 250 mm;
Taper angle of cyclone: 20°;
Diameter of underflow opening: φ20;
Separation grain size: 40 - 70μm;
Overall size (length × width × height): 1310×1056×2060mm;
Gross weight: 700kg
2、Vibration screen for drilling liquid
Exciting pattern: self-excited motor;
Exciting revolution: 1445rpm;
Exciting force: 0-10KN;
Motor power: 0.5kw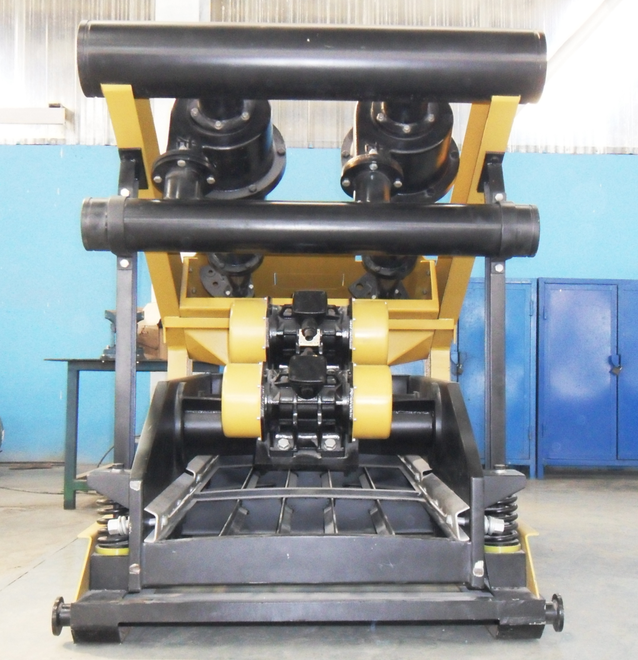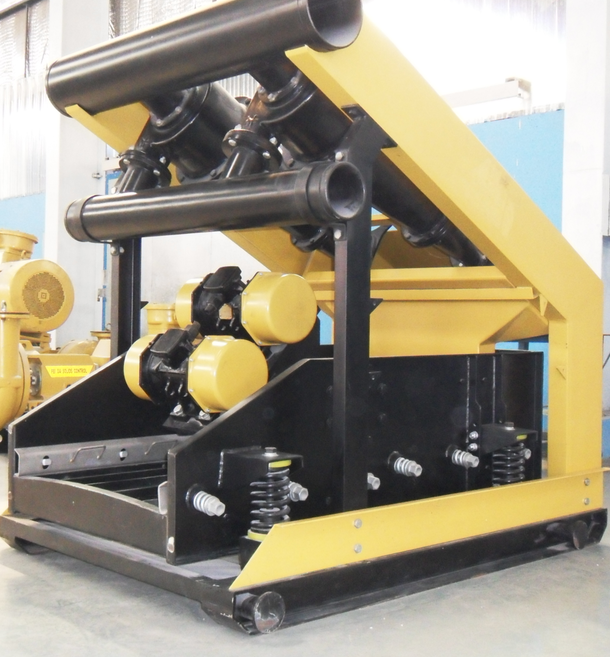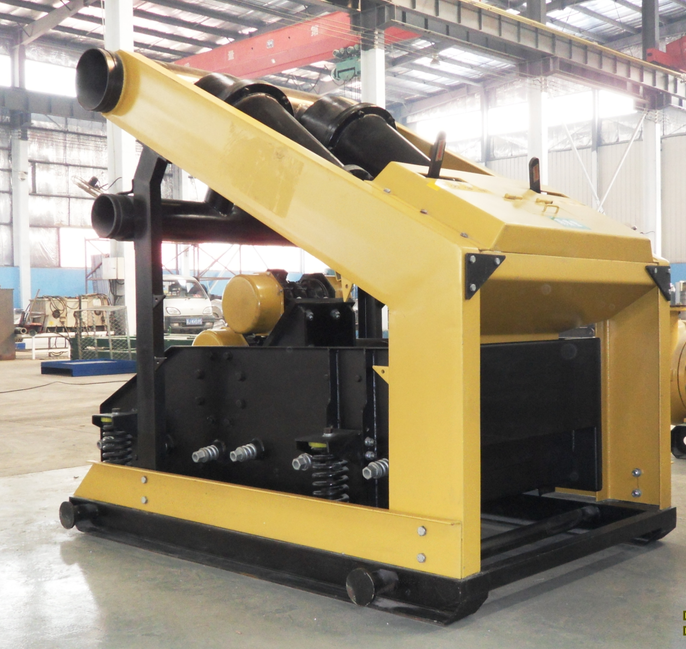 Click inquiry