Oil prices hit a 7 month low, with stocks of oil or supplies in excess
July crude oil futures electronic disk prices on Wednesday (June 14th) opened, beating $1.28, or 2.79%, at $44.67 / barrel. Oil prices tumbled Wednesday, setting the lowest settlement in seven months as expectations from the National Energy Agency (IEA) showed a significant rebound in the coming year as gasoline inventories in the United States surged last week. At the same time, ICE Brent August crude oil futures electronic disk opening price fell 1.33 U.S. dollars, or 2.76%, to $46.90 / barrel.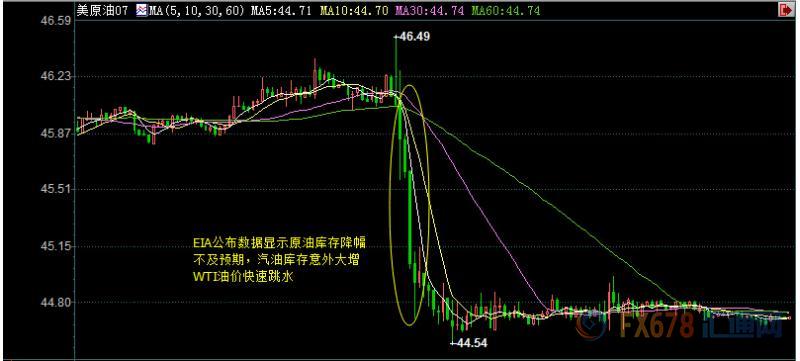 (pictured above, the US WTI July crude oil futures price intraday time map shows the time in the eastern United states;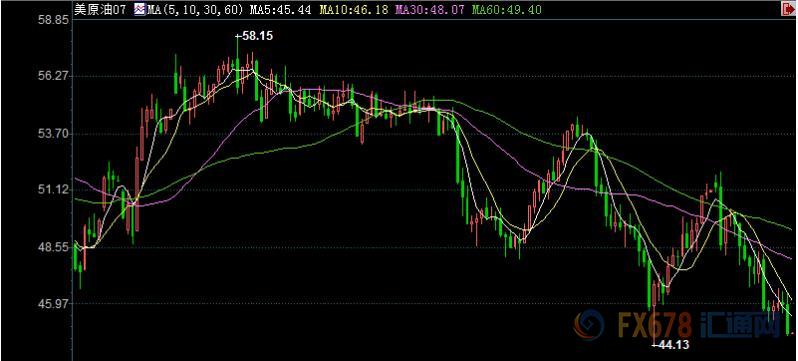 (pictured above, the American WTI July crude oil futures price, a year's candle on the line, on the eastern part of the United States)
Gasoline stocks increased, causing oil prices to go down

The sharp rise in oil prices, highlighting the continuous oil by the United States gasoline necessary weak U.S. production, especially the production of shale oil, continue to rebound hit. Analysts pointed out that the U.S. gasoline stocks increased, causing gasoline futures rose sharply by 4.5%, thereby putting pressure on U.S. cloth two oil significantly lower.
Lipow Oil Associates's chairman, Andrew Lipow, said the price of crude was rising as a result of rising gasoline futures prices; the excess supply of crude oil inventories was turning into gasoline and refined oil.
Two oil rose, bringing the two contracts to their lowest level since May 5th. And make the cloth two oil into oversold.
EIA declare stimulate market to supply superfluous worry

The EIA report says that, apart from the strategic reserves of crude oil trade stock market is expected to cut by 1 million 661 thousand barrels, 2 million 300 thousand barrels. U.S. EIA gasoline inventories increased by 2 million 96 thousand barrels, the market is expected to cut 837 thousand and 500 barrels. Gasoline inventories in the United States reached 242 million 400 thousand barrels, more than the five year average of over 9%, because in the past, the need for around 1.2% lower than the same period. Analysts said gasoline inventories were empty, covering the impact of last week's US gasoline inventories cut by 1 million 700 thousand barrels to oil markets.
Although OPEC led the rest of the oil producing countries for nearly six months, to reduce the global supply of too many occasions, but oil prices failed to continuously adhere to the high levels of many people expected. Earlier reports said the global supply of crude oil was increasing, encouraging investors to cope with an oversupply of oil, or, or perhaps, longer - term concerns. "We need to see some signs of the impact of OPEC production on global crude oil supply," Nasdaq Essner, chief power analyst at Tamar, said, "but it has not yet been seen, at least for the time being.".